What does the Koko Genetics pet DNA test offer?
Everything your pet could want, if it were a geneticist. The Koko DNA test will explain in detail many characteristics about your dog's health, well-being, and traits. It's not just a genetic exam: it's a source of information to better understand your friend.
What breed is my dog?
With over four hundred breeds in our database, perhaps it's time to confirm if your companion comes from a lineage of hunters or guardians.
See breeds
Health and diseases
Could your dog have genetic diseases that you don't know about? Are you worried about pathologies that may arise with age?
See health
Physical traits
Much of your dog's physical traits come from its genes. Do you want to know where its characteristic fur comes from? The shades that are in its eyes?
See traits
We show you the results so that both pet and owner can understand them
With years of experience behind us, we have created a simple and modern version that can be viewed comfortably from any device.
View example

---
The most complete dog DNA test you'll find
We are one of the pet genetic tests that analyze the largest number of characteristics. We divide them into three blocks: health and diseases (the health block and the complement for the veterinarian), physical traits (from hair to ears, literally) and percentage of their breeds.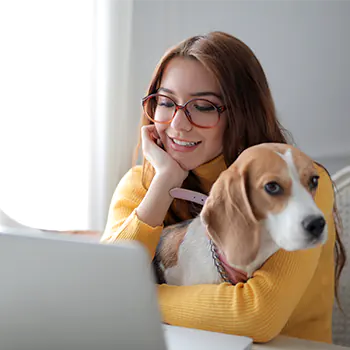 Constant features at an affordable price: zero
Everything we are offering you now is just the beginning. We will periodically update our services, with the incorporation of new features (a kinship application for animals, among others) and characteristics. These advances will be free for our users because we care. And we also care about research, so we never stop improving and incorporating.
The DNA test for animals with the best customer service
Do you have our test but are more lost than a dog in a cat park?
Our customer service will help you get out of the cat park you have entered. We will try to solve your doubts and problems within a 24-48 hour interval. Don't know if we can send it to your address? Do you have doubts about using the kit? To interpret results? You can contact us by email, chat and/or phone. It's normal to have problems, but don't hesitate to ask us for help.
Privacy and Security
Reliability guaranteed in data protection
We are aware that we handle very personal data from your pet that should not fall into the wrong hands. At Koko, we use the most advanced security protocols and the latest computer encryption technology, as well as physical and technical measures, to maximize security in accordance with current European legislation. All connections to and from our website are under the SSL cryptographic protocol.
Technology and Laboratory
At Koko, we use the best chip for the best animal species, the Axiom Canine HD Array chip, working with Thermo Fisher Scientific´s Microarray technology for the analysis of our genetic test. We analyze approximately 700,000 markers designed to make the chips as efficient as possible. The pet genetic test is performed in centres with all the corresponding regulations to offer the highest standard of quality, guaranteeing the accuracy and reliability of the results.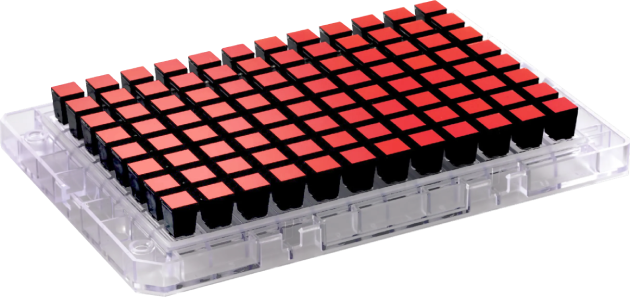 ---
Easy, comfortable, and fast. That's the Koko DNA test for dogs
You request the genetic test for your pet by clicking "buy". Unfortunately, he cannot do it because he doesn't have fingers.
When you receive the test, register it online. At the end, you will receive your shipping label.
Collect the saliva sample with the swabs. Don't let him eat them!
Send it to the laboratory. We'll invite you to that.
You receive the results and discuss with your dog what we have found.
Questions and answers about our dog DNA test
Starter
Advanced
Other companies Only breeds
Other companies Breeds + Health
Starter
Advanced
Other companies Only breeds
Other companies Breeds + Health
Dog breed DNA test
Dog breed DNA test

+130

Health and diseases

+130

Health and diseases

+15

Physical traits

+15

Physical traits
Free updates
Free updates
Family tree Upcoming update
Family tree Upcoming update
DNA Connect (Find relatives) Upcoming update
DNA Connect (Find relatives) Upcoming update
All the diseases we analyze in dogs are monogenic, meaning they are caused by mutations and alterations in a single gene. Therefore, if we detect changes in the gene that regulates that pathology, your dog will develop the disease. However, presenting the disease and how it is presented are two different ideas. Even monogenic diseases are modified by the animal's metabolism and the environment around them. With our test, you will know which diseases your dog has, but also the environmental factors and lifestyle that influence its severity and evolution, and act in response. The disease and its severity are different, it's time to tilt the balance in their favor.
To perform the test, you need to pass swabs through the inside of your dog's mouth and collect as much saliva and cells as possible. The age is independent, although we leave it up to your discretion to wait until the puppy is mature enough if it is too small or nervous.
We will try to have the results for you as soon as possible. Dogs have a shorter life than us, so we will try to have the report ready within 4-6 weeks, in human time, from when the sample arrives at the laboratory. We will notify you by email that you can already view them, and you can see them in the private area of our platform from a PC, mobile or tablet, as well as download them in PDF. Remember to read them to your pet, dogs may have trouble interpreting letters.
We work with traits and diseases that have been studied in depth, so the results we offer are 100% reliable. In case any of the investigations used in our results were modified by later studies or the authors themselves, we would make the necessary changes without any cost to the users.
The results are completely anonymous and confidential. Once you register the genetic test, the data is automatically converted into an encrypted alphanumeric code. Neither the laboratory nor during the analysis, access to personal data is allowed. We follow European legislation rigorously in this regard and have established both physical and computer barriers to protect the privacy of your pet, because dogs deserve all the good things.